Optical Mirrors
Full Range High-Quality Flat Optical Mirror Solutions
Our optical mirrors offer a full range of solutions for reflecting light to optimize performance in the UV-VIS-NIR spectral regions. Advanced Optics optical mirrors are available in stock or can be fully customized to meet your unique requirements. We offer plane-parallel, wedged, or spherical optical mirrors manufactured from a wide variety of substrates polished in almost any configuration. All of our optical mirrors may be purchased uncoated or with a variety of metallic coatings, highly durable dielectric coatings, or as partially reflective mirrors.
Whether you require one of our many catalog mirrors or need a custom fabricated optical mirror, from prototype to production, let Advanced Optics be your trusted partner - You can depend on our 100% outgoing inspection, on-time delivery, and unmatched customer service, all at competitive prices.
Optical Mirror Manufacturing Proficiencies
Fabricate flat optical mirrors from 1mm – 530mm
Manufacture plane-parallel, wedged, or spherical optical mirrors
Precision polish round, rectangular, and square substrates with the capability to provide custom optical mirrors in almost any configuration to meet your requirements
Produce optical mirrors from a variety of substrates including fused silica, quartz, Zerodur®, BOROFLOAT®33, N-BK7® and soda-lime glass
Achieve parallelism of < 2 arc seconds and offer wedged mirrors
Available Optical Mirrors
Our in-stock optical mirrors come standard with a protected aluminum coating. Protected aluminum mirrors are a popular choice for use in the visible spectrum due to their low cost and good reflectivity with Ravg >85% from 400 – 700nm. They continue to provide good reflectivity into the NIR spectrum with Ravg >90% 400 – 2000nm making it an excellent choice for many broadband applications. Other metallic coatings, including custom coatings, are available upon request.
Protected Aluminum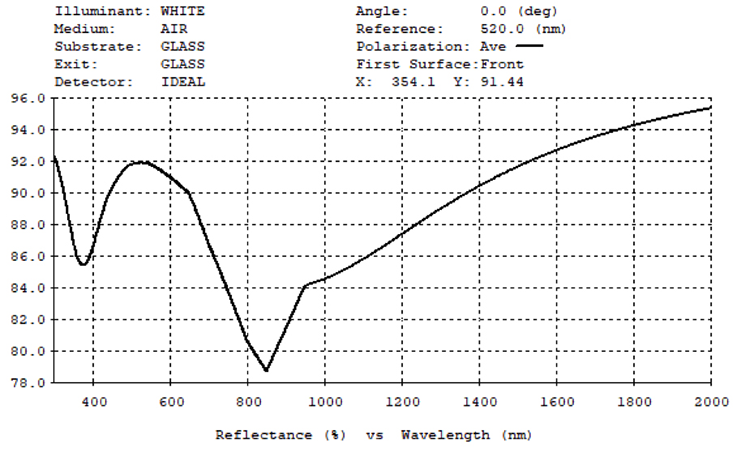 Available Commercial Grade Optical Mirrors
Bare Aluminum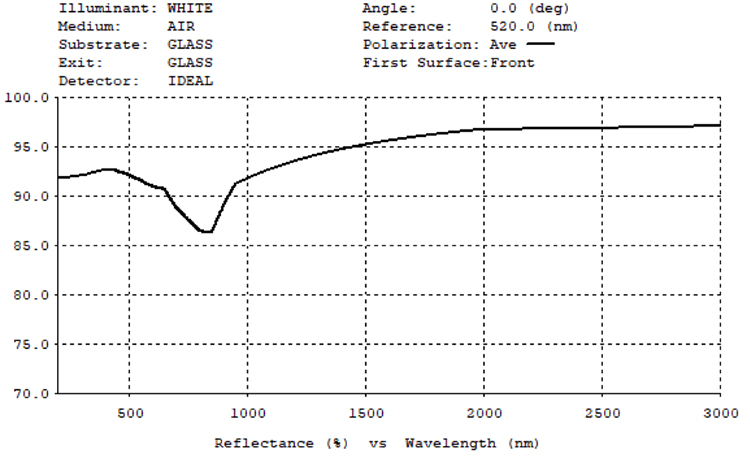 Advanced Optics manufactures both bare aluminum and protected aluminum commercial grade optical mirrors. Bare aluminum mirrors provide good reflectivity from the near UV to the IR spectrum, with Ravg > 91% from 200 – 2000nm and Ravg > 96% from 2 – 10µm. Unlike protected aluminum (reflectivity data above), bare aluminum is very soft, which makes these mirrors difficult to clean without damage, and they will oxidize over time. Therefore bare aluminum mirrors are best suited for use in climate-controlled environments where they will be enclosed with limited handling. The benefit of a bare aluminum mirror is that it does not have a protective overcoat, which causes interference or absorption of light. This makes it the mirror of choice for some systems such as spectrophotometers.
In addition to our large variety of in-stock optical mirrors, Advanced Optics also offers custom optical mirrors, and free engineering services. We have the capability to provide custom shapes, apply bevels and drill holes to meet your unique requirements.
UV-VIS-NIR Optical Mirror Solutions
Our optical mirrors can be optimized to reflect light of specific wavelengths from the deep UV to the infrared. Advanced Optics manufactures a wide range of precision polished and commercial grade in-stock or custom optical mirrors to meet your exact requirements.
Optical Mirror Coating Capabilities
Offer substrates either uncoated or with a variety of reflective coatings optimized for performance in the UV-VIS-NIR spectral regions (190 - 2500nm) with the ability to provide highly reflective coatings out to 20 microns
Provide metallic, dielectric, and partially reflective coatings
Custom coatings available upon request
Please visit our Technical Optical Mirrors page for further information on our full range of mirror coatings.
For a first surface optical mirror to perform as expected, having a good understanding of your application (as well as specifying the correct optical characteristics) is essential to reducing costs and procuring the perfect mirror. Careful consideration should be given to the following and provided when requesting a quotation for an optical mirror.
Careful consideration should be given to the following and provided when requesting a quotation for an optical mirror.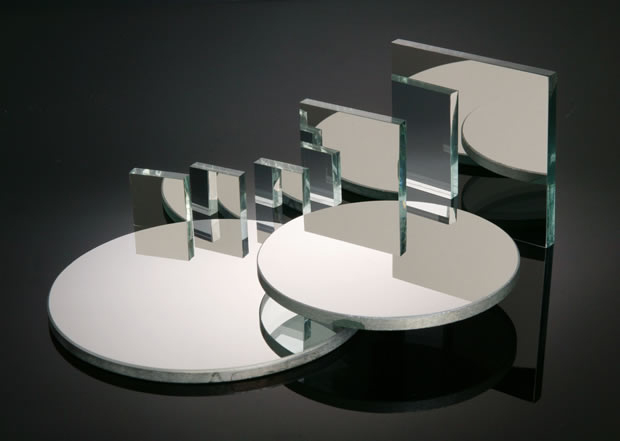 Select Substrate

Soda-lime Glass
BOROFLOAT®33
N-BK7®
Quartz
Viosil
ZERODUR®
ClearCeram®-Z
ULE® Low Expansion Glass


Determine Physical Characteristics

Shape
Tolerances for LxWxT or diameter
Scratch and Dig
Edge Bevels

Establish Accuracy

Surface quality:
Available 1/4, 1/10, or 1/20 wave

Parallelism:
Available to < 2 arc seconds
Clear Aperture

Choose Coating

Wavelength or wavelength range of interest

Percentage of reflectivity required at a specific wavelength(s) at a specific a AOI.
For further information on how to properly specify an optical mirror, please visit our page: 10 Steps to Consider when Designing Your Optical Mirror.
Careful consideration of all 10 steps will help the manufacturer of your mirror clearly understand your requirements, which translates to a faster and more accurate quotation.